UPDATE: As of July 2022, our Georgetown scoop shop is permanently closed. To those who've supported our Georgetown location over the years, we hope you know how much we've enjoyed getting to know you and how much we appreciate your support.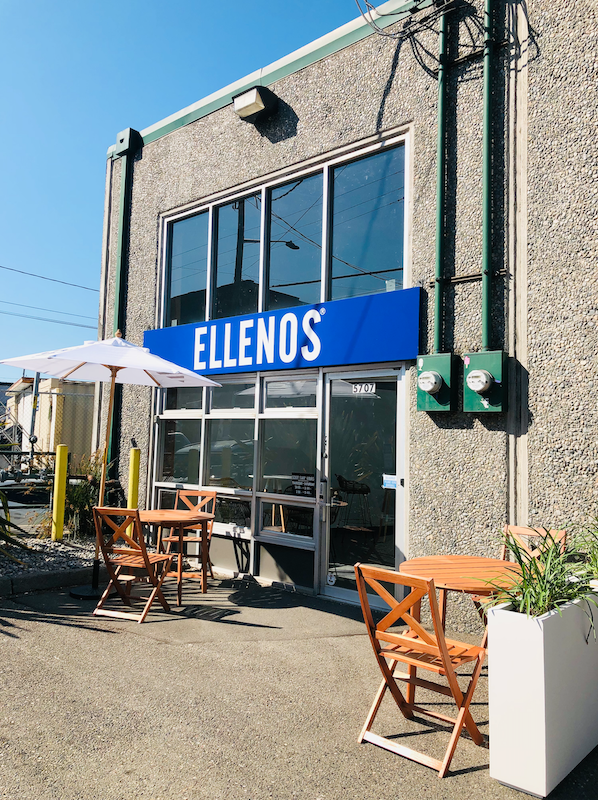 If you aren't familiar with our Georgetown shop, we first started scooping here in January 2014, back when the building was also home to our yogurt factory, warehouse, and offices. Although demand for the yogurt eventually outpaced our capacity to continue making the yogurt here (we moved that part of the operation to Federal Way a few years ago), we've continued to use the space as a warehouse, office location, and most importantly, a scoop shop! While our Pike Place Market flagship is known for being the iconic destination where people first discover Ellenos, Georgetown is probably best-known for being our tucked away location where locals become regulars and regulars become friends.
As we all know now, in March of 2020, everything changed. Seattle became the first city in the US with a significant number of Covid-19 cases, and we made the decision to close our doors and do everything we could to keep our team and community safe as we attempted to wait out the storm. As weeks turned into months (and months turned into seasons), we eventually decided that if we were going to be closed for a while, we might as well remodel! So, with our sights set on the hope of the future, we knocked out walls, built new ones, and installed fridges – so many fridges!
The past year and a half has been full of unexpected twists and turns for all of us, but we hope you know how incredibly grateful we are for your continued support. Every call, email, and social media comment asking when we're going to re-open has given us motivation to continue (and reassurance that someone will walk through the doors when we finally open them!). We are so excited to announce that Georgetown is back and better than ever, complete with the best deals on Ellenos gear, indoor and outdoor spaces to sit and chat with friends, free parking, and of course, fresh-scooped yogurt! We can't wait to share this new space with you all, and we hope to see you down in Georgetown again soon!
You May Also Enjoy Reading: